Recently one of our K9 Pro friends, Nik, had a very harrowing (and expensive) trip to the emergency vet when her Finnish Lapphund, Ahsoka, was bitten by a Red-Bellied Black Snake. Nik has shared her experience with K9 Pro.
"I was doing some work in the garden when I found Ahsoka lying down and panting heavily. She was drooling and clearly distressed. Her eyes were dilated and her face was mildly swollen. I called her over and she didn't move, which was unlike her. Even a piece of cheese was not enough to get her to stand up! Concerned she was displaying symptoms of a paralysis tick, I started checking her over but instead, noticed two small red dots on muzzle. I instantly though – snake."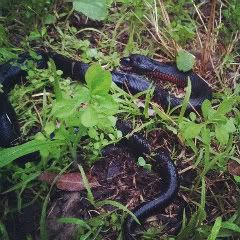 After transporting a very ill Ahsoka to the team at the Small Animal Specialist Hospital (SASH), the vets there confirmed Nik's fear – Ahsoka had been bitten by a snake. A snake venom detection kit determined the bite was from a highly poisonous Red-Bellied Black Snake. "Ahsoka's blood tests were very abnormal, with lengthened clotting times, reduced red blood cells and high muscle enzymes," says Nik, "This meant that she was at risk of bleeding, her body was breaking down her red blood cells which carry oxygen around the body and that her muscles were also breaking down. If she was not treated she could either have a fatal bleed or her lungs may fail." The vets gave Ahsoka intravenous fluids to protect her kidneys and started her first transfusion of antevenom, which costs $900 per vial.
However, although Ahsoka's blood tests showed a mild improvement after receiving the first vial of antevenom, her red blood cells continued to drop and her muscle enzymes were still going up. She was given a second antevenom transfusion, but after two nights at the vet hospital, unfortunately Ahsoka was still only showing a mild improvement.
"The vet was trying to decide whether to give her a third vial of antevenom," Nik tells us, "But decided to give Ahsoka some time to improve and by the morning her bloods had stabilised. She stayed another night at the vet hospital and was allowed to come home on Monday afternoon. For the next two weeks, Ahsoka is on strict crate rest to protect her muscles and kidneys and has to have regular check-ups with the vet."
Thankfully Ahsoka is now on the mend. And luckily for Nik, she has Pet Insurance. "All up, the 'incident' cost just under $5000," she says. Nik's pet insurance plan costs her $40 a month, and her recent experience has made all of us at K9 Pro seriously consider the benefits of pet insurance.
Do you have pet insurance? Do you think it's worth having?